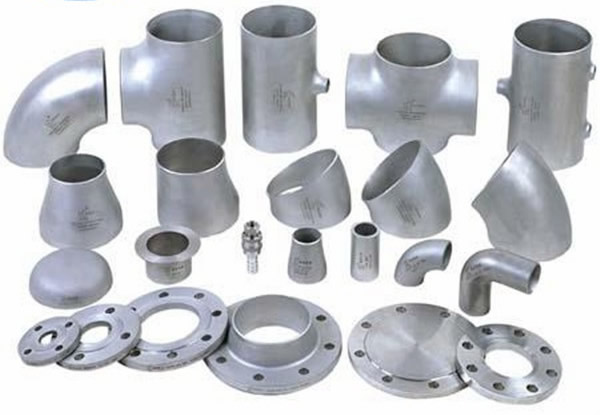 Definition: What is a butt welding pipe fitting?
Butt welding is a connecting method of welding . There are no parallel and overlap in this welding technique.This process is the basis of the piping system.It is used to weld two pipes together and welded around the seams without any overlapping. Butt welding is an low cost and reliable joint way without using additional components.
A butt welding pipe fitting is a accessory for piping connection. It is designed for changing pipe direction and pipe diameter,branching or ending a pipe system.Then the pipe fitting jonit in the pipe system for transporting fluids over distance in an efficient way .
The Butt Weld fittings are commonly used in fabrication process due to the low cost and ease for fabricating all kinds of fittings.
Advantage : Why we choose the butt welding pipe fitting:
In a piping system application ,the butt weld pipe fittings has many advantages than the socket weld pipe fitting, threaded pipe fitting.
1. It have a low cost and ease for operation.Weld joint has a greater freedom in designing layout,and it has a minimum of space.
2. Commonly it is permanently leakproof for a welding fitting connection .
3. The butt welding joint is a continuous metal structure between pipe and fitting, it has a high strength performance in the piping system.
4. The butt welding pipe fitting connection has a smooth inner surface and gradual changing of direction. Then it will reduce the pressure losses and turbulence for the fluid transporting.
5. It also can minimize the action of corrosion and frictional resistance.
What is seamless butt welding pipe fitting and welded butt welding pipe fitting ?
A seamless butt weld pipe fitting means it is made directly from a seamless pipe or a plate material, by applying heat and pressure to form the material directly into the fittings. A seamless pipe fitting has no welded joints by itself, it is requested in some critical piping systems. commonly the seamless butt weld elbows , seamless tees , seamless reducers are made from the seamless steel pipes, the seamless pipe caps are made from completed plate.
No welding joint seams on the fittings means less risk of leak and strength problem.
A welded butt welding pipe fitting means there are weld joints in this fitting. Generally people produce the welded butt welding pipe fitting because of the low cost or big dimensions. there are two kinds of welded butt welding pipe fittings, first is the ERW butt welding pipes fittings, it is made from the ERW pipes , it has a same production process with the seamless butt welding pipe fittings, second is the pieces joint welded pipe fittings , commonly it is big sizes pipe fittings ,has a large dimensions, we have to make it from the steel plate material and weld them together.
What is the standard and technical parameter for the butt welding pipe fittings?
There are many different types of butt welding fittings and they are the same in all sizes and schedules as the steel pipes. The most popular standard are ANSI/ASME B16.9 ,  ANSI/ASME B16.28,  ISO 3419, MSS SP-43, MSS SP-75 , DIN2605, DIN2609, DIN2615, DIN2616, DIN2617, EN10253, GOST17375, GOST17376, GOST17378,  GOST17379, GOST17380,  GOST30753, JIS B2311, JIS B2312, JIS B2313, KS B1522,  KS B1541, KS B1543, GB12459,  GB/T13401,  SH3408, SH3410, HGJ528, SY/T0510. Our Haihao group can manufacture butt welding pipe fittings as per all these standards .
What are the materials of butt welding pipe fittings?
The most common materials used in fittings produced is carbon steel,  stainless steel,  alloy steel and other special metals.
Haihao butt welding pipe fittings materials can be as per different standard,including the ASTM A234, ASTM A420, ASTM A860, ASTM A403, EN10216,JIS G3452, DIN 1629,GOST,GB/T 8163.
In addition,pipes and fittings for specific application sometimes internally coated with layers of materials of a completely different quality as the fitting themselves, which are called "lined fittings".
Why do pipe fittings manufacturers provide so many different kinds of materials ?
Butt welding pipe fittings are used in many applications in different industries which have many different operating conditions.
To get a best performance (resistance to different kinds of corrosive fluids,temperature,pressure,) at acceptable costs, the designer of the piping systerm choose different materials.
What type of butt welding pipe fittings we can manufacture ?
Elbow: Long radius elbow, Short radius elbow, 3D elbow, 5D elbow, 7D elbow, 10D elbow, 45 degree elbow, 90 degree elbow,  180 degree elbow;
Tee: Equal tee, Reducing tee, Straight Tee, Lateral Tee,Barred Tee.
Reducer: Concentric reducer,Eccentric reducer.
Cross:Equal cross, Reducing Cross.
Cap
Stub end.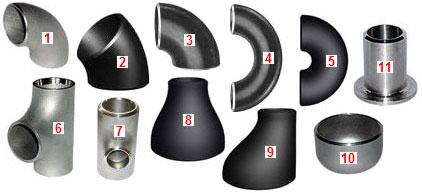 1.Elbow 90° long radius 2.Elbow 45°3.Elbow 90° short radius
4.Elbow 180° long radius 5. Elbow 180° short radius 6. Tee straight 7. Tee reducing
8. Reducer concentric 9. Reducer eccentric 10. End cap 11. Lap joint Stub End
How to choose a specific pipe fitting ?
When choosing a butt weld pipe fittings in a piping system, the decision should be done by the designer of this system, not by the pipe fittings manufacturer or reseller. The designer will choose the fittings according to the performance requirements and the costs,including the operating conditions, environments, pressure, temperature,corrosion, etc. The material of a pipe fitting is basically decided during the choice of the pipe, in most cases, a fitting is of the same material as the pipe. Of course , the designer also need to consider the cost .
Haihao group have a nearly 30 years butt welding pipe fittings manufacture experience. we can supply suitable products as per your request. Besides these standard products, we also can supply customized butt welding pipe fittings accordingly.